ATHLETICS


Athletic Directors



Follow the Northwood Nut House (student spirit club) on Twitter! @NorthwoodNut
Follow Northwood Athletics on Twitter @ChargerAthletics



For the latest up to date schedule go to Schedule Star and select your sport


Click Here for Charger Athletic information including game schedule information (under "important links", student Athlete participation information, sport coaching staff.

Photo by Clay Revels
News and Current Events
Nominations for the NHS Athletic Hall of Fame
The purpose of the Northwood High School Athletic Hall of Fame is to recognize and honor those Northwood High School athletes, coaches, administrators and volunteers who excelled in their respective sports or coaching/support roles. If you have a nomination for the Northwood Athletics Hall of Fame, please use the guidelines and forms below!
---
In order to tryout for a sport, a student must complete a "Ticket to Play." If you have any questions, please contact either
Mr. Vernon (cdvernon@chatham.k12.nc.us) or
Mr. Amy (jasonamy@chatham.k12.nc.us).

Ticket-To-Play

What is it? Northwood's new system to make sure a student is eligible to try out for a sport
How do you get one? Turn in all of your required paperwork (participation form, physical, and concussion form) to Vernon, Amy, or Harpham
All forms can be found on the NHS website under athletics or can be filled out in person when you come to pick up your Ticket-to-Play
All student-athletes are required to have their "Ticket-to-Play" by the first day of try outs/practice!
No Ticket-To-Play = No Try Out!

---
Congratulations to our student athletes signing Fall 2016!
Christian Farrell Men's Basketball William Peace University
Logan Crabtree Baseball Wake Tech
Hunter Queen Wrestling UNC
Bryn Adyt Women's Basketball Mars Hill University
Carson Amy Wrestling UNC Pembroke
Tessa Sheets Pole Vault Purdue University
Kristian Eanes Women's Basketball Queens University
Carson Shaner Softball UNC Wilmington
John Terzotis LAX and Cross Country North Greenville University
Ally McKee Softball UNC Pembroke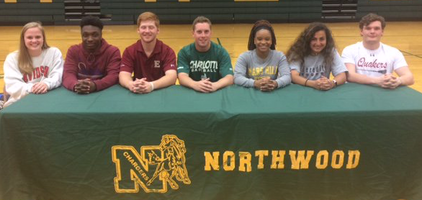 Congrats to Charger Athletes signing spring 2017:
Sarah Helen Shepherd Swimming Davidson
Michael Hayes Football Shaw
Matt Oldham Baseball Elon
Patrick Sczcipinski Baseball UNC Charlotte
Jazanae Billings Basketball Mars Hill
Hannah Omar Soccer Meredith
Wesley Roberson Guilford Lacrosse
---
Important Links

For additional Charger Athletic game schedule information you can go to:
SCHEDULE STAR
NCHSAA
Th
e North Carolina High School Athletic Association provides governance and leadership for interscholastic athletic programs. The web site contains each sport's season calendar, rules, regulations as well as NCAA eligibility information.
NCAA CLEARINGHOUSE REGISTRATION SITE
All student athletes should register with the NCAA Eligibility Center.
Neff Letterman Jackets
Anyone interested in purchasing a Northwood Varsity Letterman jacket? This is the link to purchase!
Use: The PASSWORD is 061270 to view the Northwood High School Letterman jacket - Athletics.
School Spirit Attire
Click on link to create ANY your own Northwood Apparal to support your favorite Sports Team!